Plugin Repository
Repo_XH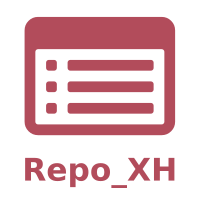 Description
Repo_XH collects information about plugins or templates. The information are made available online by the respective programmers via xml-file. The reading should be done time-controlled by cronjob. The collected information is displayed in a table as an overview or for each plugin / template as an individual overview.
Screenshots
An overview with links to plugin providers can be found
on this page
.
Own plugin?
A description of what to do to add your own plugin to this list can be found on this info page.