Plugin Repository
Shariff_XH
Description
The function extension Shariff_XH brings the function of (Social-Media-Buttons with data protection) to CMSimple_XH. It is recommended to use this plugin in combination with Ogra_XH and, if you want to use the counter display, the extension Backend Shariff_XH.
Screenshots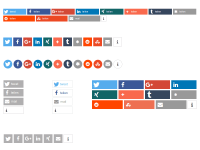 Category:

Dataprivacy, Socialmedia

Current Version:

1.2

Date of publication:

2021-03-19

XH-Version:

≥ 1.7.3

PHP-Version:

≥ 5.6

License:

GPLv3

Coder:

Olaf Penschke

Website:

https://ola ... .net

Information last updated on:

2021-03-22
An overview with links to plugin providers can be found
on this page
.
Own plugin?
A description of what to do to add your own plugin to this list can be found on this info page.