Template Repository
jekyllandhyde
Description
MultiPage-Template responsive
Template with fixed Menu (Menulevel 1-3), Landingpage, Newsbox-Slider, Contact-Area, [+]Nav and Footer-Navigation for important Links. Template Language-Files for multilingual Websites. Backend Administration with smart Admintemplate.
Screenshots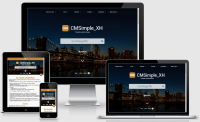 Category:

Multipage

Current Version:

1.0

Date of publication:

2017-11-30

XH-Version:

≥ 1.7

PHP-Version:

≥ 5.4

License:

GPLv3

Coder:

lck

Website:

http://www. ... .de/
An overview with links to template providers can be found
on this page
.
Own template?
A description of what to do to add your own template to this list can be found on this info page.